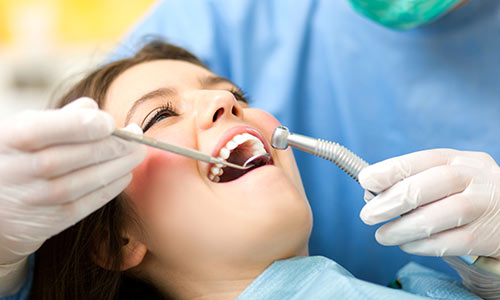 24 Aug

The Best Dental Specialists Are Provided By The Dental Clinic Near Banjara Hills

A dental visit twice a year is recommended by expert scientists as studies have shown that people who get regular dental check-ups are more likely to have healthy gums and teeth than others. The basic habits to maintain oral health known to all are eating a balanced diet, brushing and flossing daily, using a mouthwash as prescribed by your dentist, and replacing the toothbrush after the desired time. It is important to know about oral health problems you may face in the future due to various reasons. Your dentist will educate you about the preventive measures you need to take to achieve good oral health.
When do you need to visit a dentist?
Below mentioned are some signs that you need to visit your dentist soon. Do not delay your visits and get a health check-up if you are suffering from any of these underlying symptoms.
● Redness in gums
● Irritation
● Toothache
● Infection or pus
● Damaged tooth
● Bleeding gums
● Discolored tooth
● Sensitivity
These dental issues can develop at any age due to numerous reasons such as bad oral habits, dental trauma, genetic issues, accidents, injuries, lack of attention, not taking proper care, and avoiding minor oral problems that may grow into major issues in the future.
To avoid such conditions, you need a professional expert to understand your oral state and what precautions should be taken. A dentist will give you proper information about how to manage one's oral hygiene. A well-experienced team of best dental specialists Banjara hills at Capture Life Dental Care are talented will immense knowledge and practice in dentistry. Hyderabad has one of the most trusted dental networks to deliver great dental services.
Capture Life Dental Care clinic in Banjara hills Hyderabad city of India is a fully equipped dental care with an expert team of dentists. The team of dental specialists in Banjara hills is highly qualified from the top institutes of India with modern dental practices. The specialists of various dentistry such as a general dentist, a cosmetic dentist, orthodontists, maxillofacial surgeons, endodontists, periodontists, prosthodontists, dental implantologists, and pediatric dentists are available at our clinic in Hyderabad.
Dental treatments offered at Capture Life Dental Care:
Smile Design
Cosmetic Dentistry
Pediatric Dentistry
Braces
Invisalign
Root Canal Treatment
Full-mouth Rehabilitation
Bridges and Crowns
Crowns & Veneers
Laser Dentistry
Tooth jewel
Teeth whitening
Emergency dental services
Experience these treatments by reputed dental specialists near Banjara hills at Capture Life Dental Care in Hyderabad, India. With state-of-art infrastructure and cutting-edge technology, we are all set to offer a complete dental care solution for every type of oral problem. Our dental specialists will guide you with all the dental procedures to make it easy and convenient with effective results.
If you want to get in touch with our dental specialists, send an e-mail. We will try to respond as soon as possible to solve your queries.
Contact us and book an appointment!